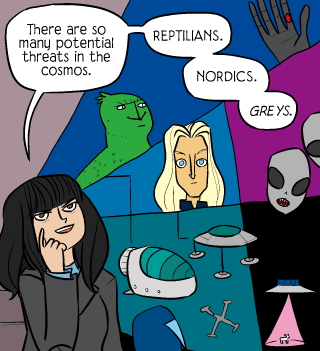 Like in the real world, many people of the Tackleverse like to formulate speculations about the existence of extraterrestrial lifeforms, and how they might look like. Among them are Shelley Winters [2] and Charlotte Grote [3]. The latter even wrote a poem about aliens invading Earth [4], which won her a trip to SpaceUK.[5]
It has been shown on several occasions though, that there are indeed aliens in the Tackleverse. These include:
Ad blocker interference detected!
Wikia is a free-to-use site that makes money from advertising. We have a modified experience for viewers using ad blockers

Wikia is not accessible if you've made further modifications. Remove the custom ad blocker rule(s) and the page will load as expected.