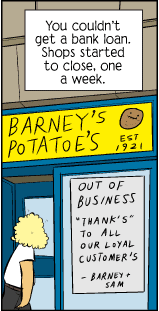 Barney's Potatoe's was a Tackleford shop founded in 1921, which went out of business during the 2008 financial crisis. In addition to potatoes, it apparently specialized in mi'splaced apo'strophe's.
It is unknown whether Cedric the Emo Potato was obtained there.
Ad blocker interference detected!
Wikia is a free-to-use site that makes money from advertising. We have a modified experience for viewers using ad blockers

Wikia is not accessible if you've made further modifications. Remove the custom ad blocker rule(s) and the page will load as expected.