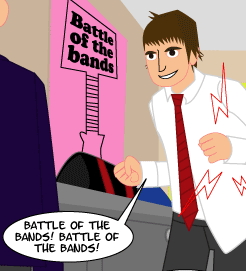 The Battle of the Bands was a musical competition held at Griswald's Grammar School, originally suggested by the teacher Mrs. Liversey, and authorized by headmaster Bob Crowley, who, in contrast to his predecessor Mr. Daimler (or Mr. Cole, back in 1973, when Mr. Pevenser already had the same idea), was quite delighted by the idea.[2] The judges where Mrs. Liversey, Mr. Pevenser and Shelley Winters, who was also seen interviewing the former two, probably for an article in the Tackleford Cormorant.
The entries where:
External Links
Edit
Ad blocker interference detected!
Wikia is a free-to-use site that makes money from advertising. We have a modified experience for viewers using ad blockers

Wikia is not accessible if you've made further modifications. Remove the custom ad blocker rule(s) and the page will load as expected.