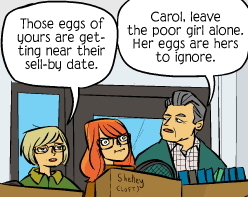 Ed Winters [2] and Carol Winters [3] are the parents of Shelley Winters and Erin Winters.
Ed Winters was a builder, who owned the "Winters Construction" company, and was living with his family since 1984 (when Shelley was about four [4]) in what seems to be a more rural part of Tackleford, called Flag Fold.[5] His property there included a barn, in which his daughter Erin and her friend Esther de Groot once were hiding a minotaur, in spite of Erin's fear that it will eat her dad.[6] It may have been the same barn that was inhabited by feral cats, and that years before the minotaur incident served as a hiding place for Erin herself [7], after her dad told her that he was planning to sell the farmhouse.[8]
As seen in Expecting to Fly, Ed's hair color was brown in 1996. Three years later (when Shelley was 22 and Erin 11)[9], his hair started to grey [10], and he was completely grey soon after that, as his sole appearance in the original run of Bobbins shows.[11] His wife Carol, on the other hand, seems to be fond of hair dye: At different points in her life, she can be seen with either red [12], brown [13], or blonde [14] hair.
Other Members of the Winters Family
Edit
In 1918, Mayor Byron de Groot's staff included a woman who was looking very similar to Shelley.[15] Emphasized by her red hair (even in monochromatic pictures!), and the fact that Shelley many decades later had a very similar job position under Mayor James Mayor, this might imply that this woman was an ancestor of the present day Winters family.
In 1960, the Tackleford Cormorant was reporting about a woman named Elaine Winters, who was causing a stir with a prototype mini-skirt.[16] Her exact relation to Ed, Carol, and their daughters is unknown, though Ed calls her Shelley's "Auntie"[17], which could mean that Elaine is his sister or his cousin.
Ed Winters' character design, for his appearances in Expecting to Fly and the Bobbins relaunch, was originally meant to be for the Robert Cop character Dr. Heath, as can be seen in this early pilot strip. But since this character design got already "used up" before the Robert Cop concept was fully developed, John Allison eventually decided to turn this character into the female Dr. Liz Heath instead.[18]