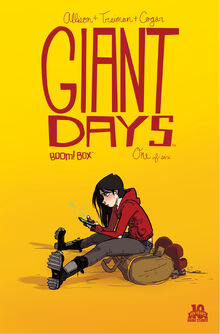 Giant Days is an ongoing comic book series published by Boom! Studios, covering the college careers of Esther de Groot, Susan Ptolemy, and Daisy Wooton. 19 issues have been published so far.
Prior to the Boom! Studios series, John Allison self-published three issues in a smaller format which take place immediately prior to the start of the current series.
Ad blocker interference detected!
Wikia is a free-to-use site that makes money from advertising. We have a modified experience for viewers using ad blockers

Wikia is not accessible if you've made further modifications. Remove the custom ad blocker rule(s) and the page will load as expected.