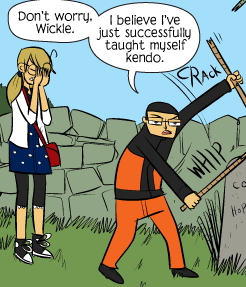 Corky, whose actual name is Mosstyn Corkindale (and is addressed as "Mossy" by his mother), is one of the "gaming nerds" at Griswald's Grammar School along with Tuan Hoang and Blossom Cooper. Shauna Wickle went to this group for help when her friends (and much of the rest of the school) were hypnotized by Lem (who turned out to be an extraterrestrial onion creature). These "nerds" (along with Shauna) were immune to this hypnotism because their glasses blocked it. Shauna agreed to date Corky as a condition for assistance from the group (which was naturally suspicious of Shauna, who didn't usually hang out with that group despite an interest in some of the same geeky things, and feared she would retreat to her own friends after they were no longer hypnotized, which in fact took place). While the dates didn't actually go too badly (Shauna hit it off with Corky's mother particularly well because of common interests and opinions in such matters as architecture, where the merits of Daniel Libeskind and Frank Gehry came up), no long-term romantic connection followed; Blossom in particular was opposed to any continued fraternization between Shauna and any of her group, and she had a great influence on all of them.
Corky's first appearance was when he showed up for sport at the school after getting a new family doctor who didn't give him a "rolling sick note" as the previous one did.
Corky is in a very wealthy family, living in a large mansion and having formal dinners in which one has to figure out which of the many pieces of flatware needs to be used at any given time. Corky's father, however, suggests to Shauna to "just use the ones you like the look of best." Corky's sister is named Elise, and she has friends named Cassandra and Fleur.