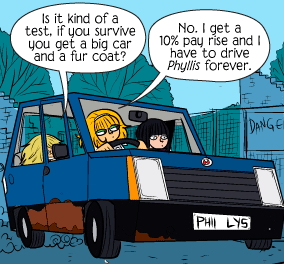 Phyllis is a 1990 Fiat Panda, and a "character" appearing in Giant Days and Bad Machinery.
At the beginning of its (in-universe chronological) first appearance in the third original Giant Days comic, the car was in the possession of Thom, the acting president of the University of Sheffield's Indie Society, whose parents gave it to him for his 18th birthday. His name for this car was "Vetiver", and he claimed that the original owner was David Gedge of The Wedding Present. Not accepting Susan Ptolemy winning the election for President of Indie Society, Thom challenged her for the presidency as well as his beloved car. Susan promptly won the challenge (an arm-wrestling match), then passed on the presidency to Oliver Walton and the car (due to the lack of a driving license) to Erin Winters, who at this time was a fellow student at her university. Esther de Groot got the idea to rename Vetiver as "Phyllis", upon reading the number plate: "PHII LY5".
In Bad Machinery, Erin was still the owner of Phyllis, after moving back to Tackleford and becoming a reporter for the Tackleford Cormorant. Being old, rusty and loud, and also already having suffered a bit of damage back at the university, Phyllis caught much derision from Charlotte Grote and Shauna Wickle.[2] There was also a red flashing dashboard light, but Erin managed to convince the girls that this was actually a signal for an emergency at the office.[3]
Phyllis "died" during The Case of The Unwelcome Visitor, after Lottie got a plan that involved loading a lot of bricks into Phyllis' trunk.[4] This was apparently too much for the poor old car. Unsurprisingly, this significantly slowed down Phyllis.[5] Eventually, the car caught fire[6] and burned down completely.[7]
Long after the demise of Phyllis, Erin kept being loyal to the Fiat brand.[8]