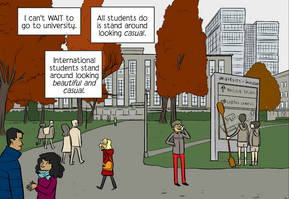 The University of Tackleford is the leading institution of higher education in the Tackleford area. Several characters have been involved with it as faculty, staff, or students, though some locals chose to get their university education in more distant places.
The student newspaper is the Clarion.
Eustace Boyce worked as a lab technician for Professor Haversham (where he was teased by Mildred, who secretly crushed on him).

Barry Proops, a chemist who was also a former student of this university. (See below.)

Ralph, the shady occultist friend of Ryan Beckwith did run the elevator of the building in which Len was working.[1]
William Crow, a friend of Tessa and Rachel who was working at the university's library.[2]
Students
Edit
Ad blocker interference detected!
Wikia is a free-to-use site that makes money from advertising. We have a modified experience for viewers using ad blockers

Wikia is not accessible if you've made further modifications. Remove the custom ad blocker rule(s) and the page will load as expected.