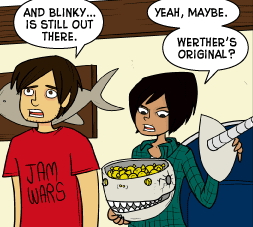 Werther's Original is a German brand of caramel flavored candy, which is also available in Britain, and thus in Tackleford.
Gibbous Moon was once offering Werther's Original bonbons to Ryan Beckwith, which she rather gruesomely kept stored in the skull of Blinky the Narwhal, who was during his lifetime the archenemy of Ernest Cromerty.[1]
During a visit to Oxford, Shelley Winters also had some Werther's Original bonbons brought with her. She offered one to Amy Beckwith, in order to distract her from ogling the Oxford academics.[2]
Werther's Original is a brand that actually exists in real life. You can read more about it here.
Ad blocker interference detected!
Wikia is a free-to-use site that makes money from advertising. We have a modified experience for viewers using ad blockers

Wikia is not accessible if you've made further modifications. Remove the custom ad blocker rule(s) and the page will load as expected.