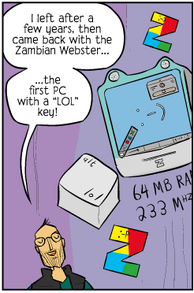 Zambian Computing is a computer and electronics company in the Tackleford universe, founded by Ben Bishop and based in San Francisco. Starting with home computers in the 1980s, it moved on to other electronic devices including mobile phones and tablets, becoming the most cash-rich company on Earth. Bishop left the company at one point, but eventually returned. Zambian products included the Zambian 48K, Zambian Webster, Zambian Brikk, Z4 Pokketbook, Zambian SuperTelephone, and Zambian4U Slate. It is now running the SpaceUK space camp, run by Bishop with staff Hilken Strom and Roland George, and attended by Shauna Wickle, Charlotte Grote, Tuan Hoang, Jordan P., and Alex S. Its Zambian SuperOS 7.1 seems to have a problem with multiple monitor support, and its use of monochrome icons that all look the same has drawn some criticism. Version 7.1.4 is rumored to fix wireless connection problems, however.
Zambianinsider is a website reporting on news and rumours regarding Zambian Computing.
Ad blocker interference detected!
Wikia is a free-to-use site that makes money from advertising. We have a modified experience for viewers using ad blockers

Wikia is not accessible if you've made further modifications. Remove the custom ad blocker rule(s) and the page will load as expected.